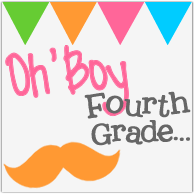 Happy Tuesday friends! So, I have seen Farley's linky parties since the beginning of my blog stalking days but this is the first one that I am participating in which is very exciting. Head over to Oh' Boy 4th Grade to get in on the fun!
Actually, my husband is a channel hopper so there is no telling what I will be listening to by the end of this blog but currently it is FOX News! I will be so happy when November comes and goes!
Loving- So this font is smiley monster by Kevin and Amanda which I am loving. Initially, I had a lot of doubts about this position BUT I am falling more and more in love with it each day. There are still things that I really miss about 1st grade but I am really beginning to l <3 this position which I wasn't really sure I would ever be able to say! Now that I am actually working with classes and not trouble shooting adult computer problems I am having a lot more fun. My schedule is very flexible and I am collaborating with first through eighth grade educators. I am loving the impact that I have on teachers and seeing kids get so motivated, engaged and excited about what they are learning about through the integration of technology! I currently have 4th graders OBSESSED with making QR Codes on cool facts about our solar system. One of the 4th grade teachers is taking their excitement and using it for her next unit to have students create QR Codes to map a region of the United States.
I am so in love with my life. I have an amazing husband, two adorable puppies, wonderful friends and family, a great career, a home I love, I'm feeling MUCH better being gluten/dairy free, etc. etc. etc. I am one lucky lady and feeling very blessed!
Thinking- Yes, yes I know. I am obsessed with QR Codes! I am an addict. Period. End of story. This QR Code links to an awesome Live Binder on QR Code ideas!
Wanting- I absolutely love ice cream and one of our local dairy bars has PUMPKIN ice cream around this time of year, however this is my first year COMPLETELY dairy free. Edy's makes it and a few other name brands which I purchased for my husband (pure torture)! Some of my favorite things about fall are all of the goodies and drinks! I was really sad at the beginning of fall when I knew I couldn't have MOST of the things that I love during fall. BUT I have found some great fall treat recipes that are gluten/dairy free thanks to Pinterest, oh what did I do before Pinterest!!!
Needing- To-do lists keep me sane! I love Color Notes on my Droid which is an easy check list! I am working on feeling more at ease at picking up my to-do list the next morning and not working until all hours of the night trying to accomplish every last task on the list. As a Type A, OCD freak this is difficult :)! Today post blog came up and here I am, last item on my list!
Book- OK, so as I was re-reading the "rules" I realized that I didn't put a fall book, OOPS! Teachers are so bad at reading directions! I love me some Junie B. Jones: Boo and I Mean It! She is such a sassy pants but I pee my pants laughing every time I read this one. Anyways, as a grown up I love to read BUT it is so hard during the school year! I never feel like I have time to sit and enjoy a book. I like to read books cover to cover so it is hard for me to squeeze in a few pages here and there. By the time I actually have time to read I usually am falling asleep. One of my good friends recommended The Happiness Project and I just downloaded it on my iPad.