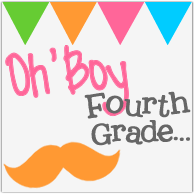 I am doing a happy dance as I say goodbye to May and hello to June!
One of the first thoughts I had today was I need to link up with Farley, Oh Boy 4th Grade for June's Currently, priorities I know! I promise now that summer is right around the corner I will be more diligent with my blog (I hope)! Sadly, my last post was May Currently! Oh boy am I behind on some really cool tech things!
listening: Yes, I am listening to Chopped again on the food Network. I absolutely love this show! It is one of the first shows my husband and I started watching together. He is an amazing chef and can immediately think of ways to use the mystery ingredients. I usually have to Google half of the ingredients although I do love to cook I can't figure out how to put ingredients together.
loving: Summer is so close I can taste it! We have 11 and a half days left of school. Last week I was chatting with a coworker and her teammate came in with a countdown of 13 days. I almost fell off the desk. I knew it was close but it sounds that much better in numbers!
thinking: This year has flown by! I did not feel that way around Christmas but the last few months have really flown. I think it is because I've had lots of fun between January and now with Florida in January, Vegas in March followed by the beach and tons of weekend events!
wanting: We are heading to OBX the day after school is out and will spend MOST of the summer there ;)!
needing: Our house is always "clean" because I am super OCD but I need to do a serious scrub and deep cleaning this summer, ya know the hands and knees nooks and crannies type of cleaning. I keep trying to convince my husband that we need to hire a maid for this type of cleaning but since he keeps laughing at me when I mention it I must do it myself this summer. We also each have an extra room in our house and my goal is to clear the clutter from mine.
essentials: Obviously it is impossible to take just three things on vacation but since my summer vacations will include beach, beach and beach it is important that I have my bikini and flip flops! I will also need my iPad for entertainment and communication purposes :)! I cannot wait to read some good books this summer, pin,pin,pin on pinterest and play games galore! I am obsessed with Words with Friends, Bookworm, CANDY CRUSH and Fruit Mania. I don't go anywhere without my camera and I will be capturing our summer through my lenses!